Home » Categories » Multiple Categories
Alternative Order Status Codes
Article Number: 2249 | Rating: Unrated | Last Updated: Fri, Jun 19, 2020 at 4:34 PM
Datafile 2019 and above, Diamon and Premier only

Each Sales or Purchase Order carries an Order Status. These are pre-set codes that categorise the orders as:
Q Quotes
A Active Order
H Held Order
F Forward Order
D Deleted Order
C Completed Order
This new feature allows for the definition of up to five user-defined status codes. You may for example use a 'L-Lost' status to indicate that a Quote has not been accepted, a 'S-Stop' status to indicate that an order is on hold due to the account being on stop (leaving H-Hold for credit reasons) and so on.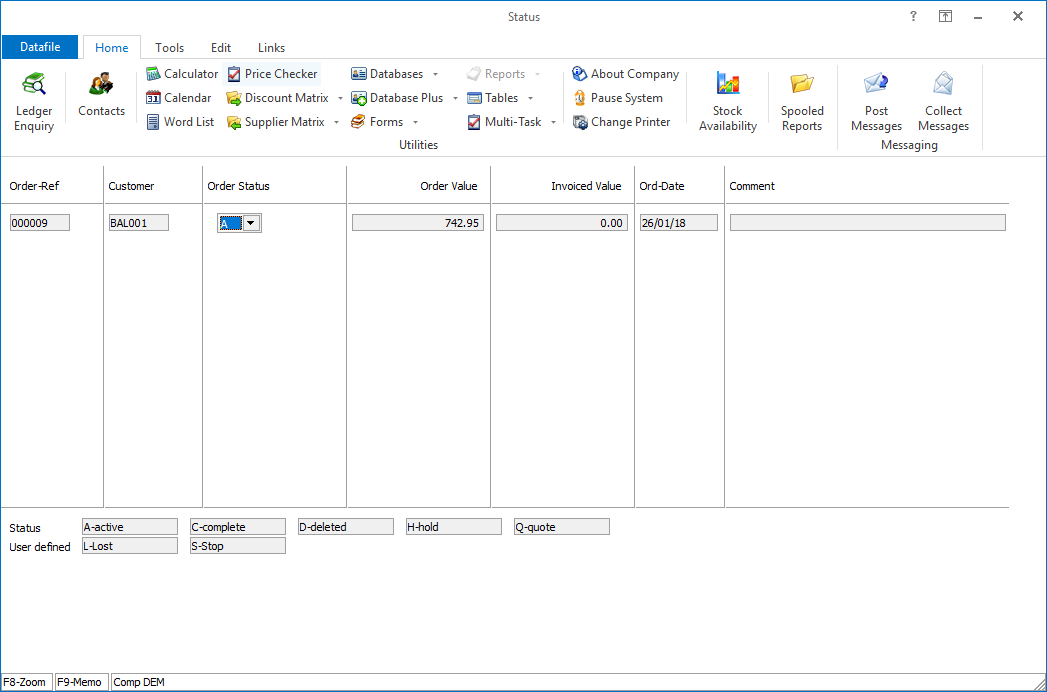 As part of the Change Order Status options the system will allow selection of the user-defined status codes as appropriate to the current order status.
Installation
Application User Facilities
To define the alternative status codes, select Installation from the main menu followed by Application Manager and then Application User Facilities. Select the appropriate Order Processing application before selecting Enter/Amend Orders, Advanced Input Facilities and Optional Features. The new user-defined status options are available on screen 6.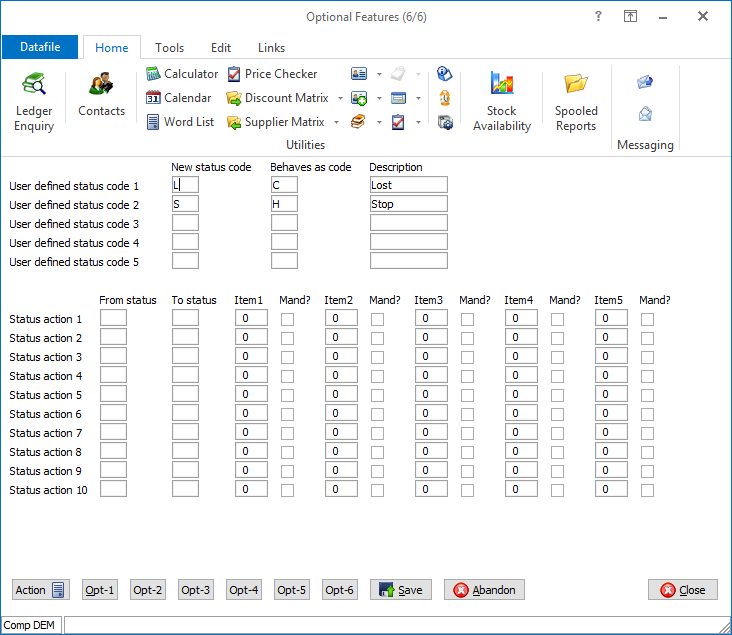 User Defined Status Code – enter the letter for the status (reserved letters are A/C/D/F/H/Q)
Behaves as Code – enter the code the alternative letter 'behaves as' – for example if using 'L-Lost' to indicate that a quote has been lost this could be defined to behave as 'C-Complete' or 'D-Deleted', if using the S-Stop status this could be defined to behave as 'H-Hold'.
Description – enter short label text for the user defined status.
Notes
Internal Order Processing process use the 'behaves as' code as the guide for processing. For example, if using the S-Stop as H-Hold status then you would not be able to raise an invoice or delivery note against that flagged order and account accumulation values would be updated to the H-Hold values.
Similarly, Ledger Enquiry filter options and the application report to Analyse Orders by status use the 'behave as' status for filters and analysis respectively.
Report and Landing Page Selection Criteria options check the content of the data item so will use the user-defined value where appropriate.
Attachments

There are no attachments for this article.
Related Articles