Auto Accept Suggested Serials on Picking Document
Diamond and Premier only

If, during Sales Order entry, you pre-allocate serial item selections then the SOP documents have the facility to automatically accept these pre-entered details and not prompt again during the document processing.
If, however, you are not pre-allocating in order entry the documents will prompt for the serial details for confirmation – even if issuing on a FIFO or user-defined sequence. A new option is now available within the document parameters which will allow the automatic acceptance of the default batch details.
Installation
Document Design Manager
Additional options have been added to the parameters within the SOP document definition to allow for the automatic acceptance of suggested batches.
To update select Installationfrom the main menu followed by Application Manager and then Document Design Manager. Select the Sales Order Process application and then the SOP document type before selecting the document number to be amended and the document mask will be displayed. Select the Parameters option from the ribbon / toolbar and then use the Action button to move to parameter screen 21.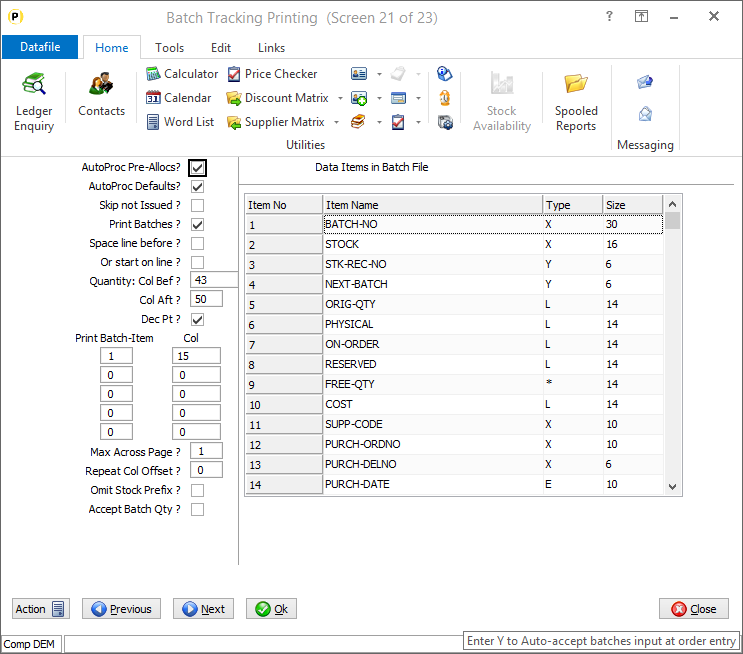 Auto Proc Pre-Allocs? - Set to allow auto-acceptance of pre-allocated batches (this applies to batches allocated as part of order entry or as part of a picking document).
Auto Proc Defaults? – if no batches are pre-allocated set this option to allow auto-acceptance of suggested batches based on settings for issue sequence within the Batch Tracking System Profiles.