Home » Categories » Multiple Categories
Document Processing - Alternative Extra Text Items
Article Number: 2248 | Rating: Unrated | Last Updated: Fri, Jun 19, 2020 at 4:20 PM
Datafile 2019 and above, Diamond and Premier

Sales and Purchase Order Processing allow for two description lines per order detail as standard with the option to display/input extra description lines if required. These lines are typically used to extend the product description but are sometimes used to provide internal notes as picking instructions.
Document Processing currently allows control on a document level as to whether the extra description lines are to be displayed. This option allows you to define an alternate range of description lines to be included in preference to the standard profile settings. This allows you to define a picking note that displays additional notes for internal use but allow the delivery note or invoice to display the customer/supplier facing detail.
Installation
Document Design
The alternate extra text items need to be referenced within the document parameters of the appropriate documents.
To update select Installationfrom the main menu followed by Application Manager and then Document Design Manager. Select the Sales Order or Purchase Order Processing application and then the document type before selecting the document number to be amended and the document mask will be displayed. Select the Parameters option from the ribbon / toolbar and then use the Action button to move to parameter screen 10.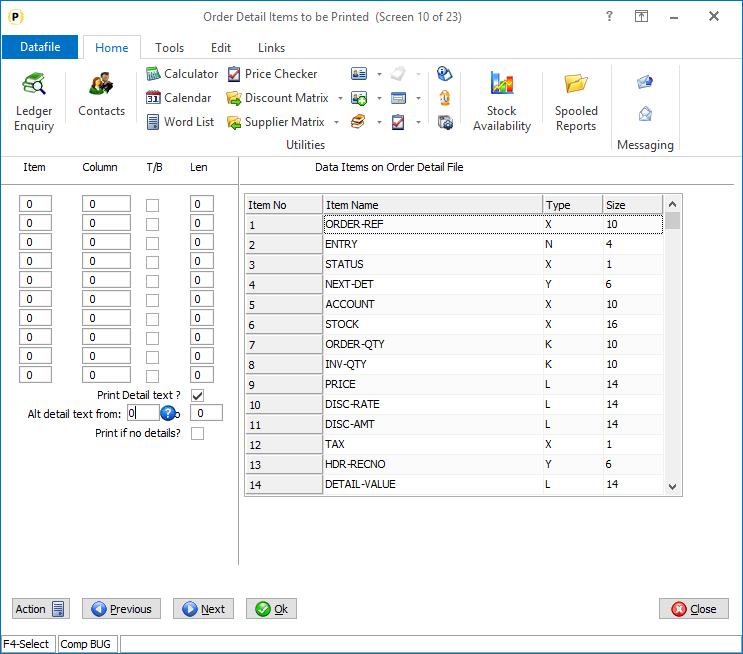 Print Detail Text – this (existing) option allows you to set whether the document description is to include the extra text options.
Alt Detail Text From / To – this option, applicable if set to print detail text, replaces the extra text range defined in the profiles with the range of items referenced here.
Attachments

There are no attachments for this article.
Related Articles