Cashbook - Global Transaction References
Global Transaction References
When posting Receipts and Payments within the Cashbook then the system has the option to increment references – historically this has been used for paying in slip references for receipts and cheque numbers or payments and is held per bank account.
For some users, payments and receipts are increasingly processed online – this new feature allows for the receipt and payment references to be set to use a global shared sequence regardless of account so that it acts as a transaction reference.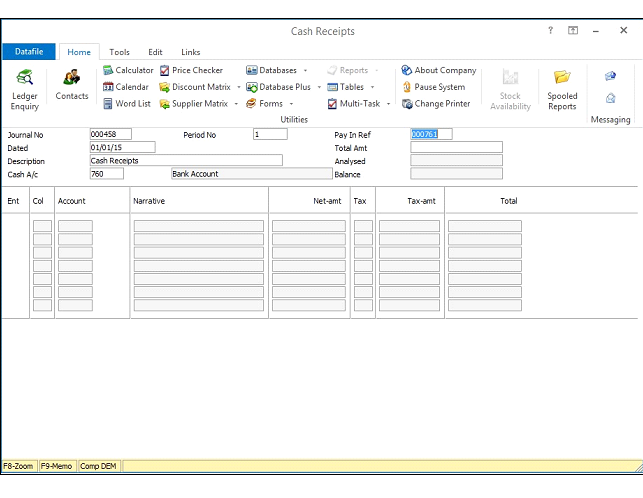 During transaction entry the receipt/payment reference will offer as default the next number in sequence. You can overtype the reference but the system will increment the next transaction reference from the original reference for use as the default next in sequence.
Installation
Application User Facilities
New parameters have been added to the Cashbook Receipt and Payment references to allow use of a global reference sequence. To update select Installation from the main menu followed by Application Manager and then Application User Facilities. Select the Cashbook application and then Cash Book Transactions and then Cash Receipts.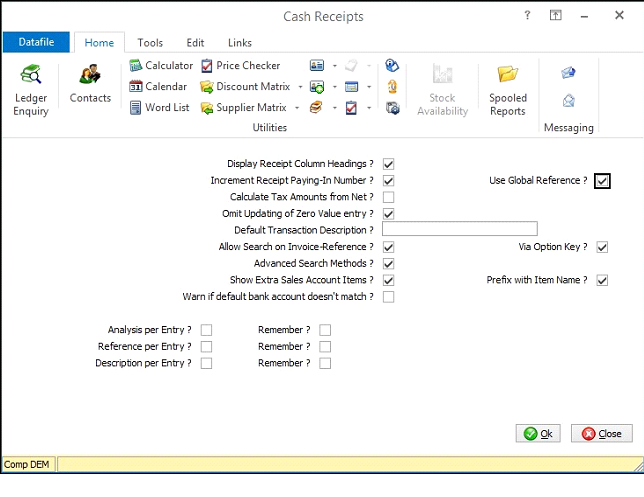 Increment Receipt Paying In (Payment Cheque) Number – set to increment reference numbers during receipt / payment posting.
Use Global Reference– set to use a global reference for the company rather than single reference per account.
Note that the parameter for 'Global Reference' is shared between receipts and payments so setting one will automatically enable for the other. The Increment reference option is separately controlled however.
Controls & Audit Manager
To set the initial reference or to edit the last reference an option has been added into the Edit System Status display options for Cashbook. To update select Installation from the main menu followed by Controls & Audit Manager and then Cashbook. Select the Edit System Status option to amend the last reference.